Even if you are a Billie Eilish's fan, you may have heard about her chameleon hair. The singer likes to change her hair color and style to refresh her image. 
So what is Billie Eilish new hair? How many hair colors has she tried? Today, Billie Eilish Merch Store will give you a complete guide to the famous artist's hair revolution. Let's check it out! 
Billie Eilish New Hair 2022 
Billie now dyes her hair a deep jet black after formerly going from neon green to platinum blonde, returning to her roots.
The artist posted a picture of the new color on her social media post and Instagram Stories in February 2022. 
In the grid image, Billie wore a mask, sitting on an airplane, her dark hair hanging loose, and her choppy bangs covering her pale blue eyes. The picture had one million likes in just six minutes. 
Eilish retained this hair color to join the Oscars in March. She accented her ruffled floor-length black gown with a flipped bob and wide, sweeping fringe in the same color as her dress.
Billie has generally found inspiration from all over, including vintage family photos and Holiday Barbie, so the retro theme is nothing new for her. 
Billie Eilish Hair Revolution 
Changing hair colors can make a new look. Hence, Billie doesn't mind experimenting with new styles. She has tried 14 hues, and most of them pull it off. Here are some colors that build her image of a chameleon. 
Platinum White
She colored her hair so white in 2017. When her career was taking off, and she had achieved great things, she dyed it platinum white. 
Silver (2016-2017)
Billie had silver hair when her "Ocean Eyes" became a hit in 2017. A metallic sheen rested over her silvery gray hair and lasted for two years.
Lavender (2018)
She had her hair colored a light lavender in 2018 that looked like a combination of silver and purple coloring.
Blue (2018)
Billie hates this color, which is also her least favorite hue. Yet, she doesn't remember how she chose it.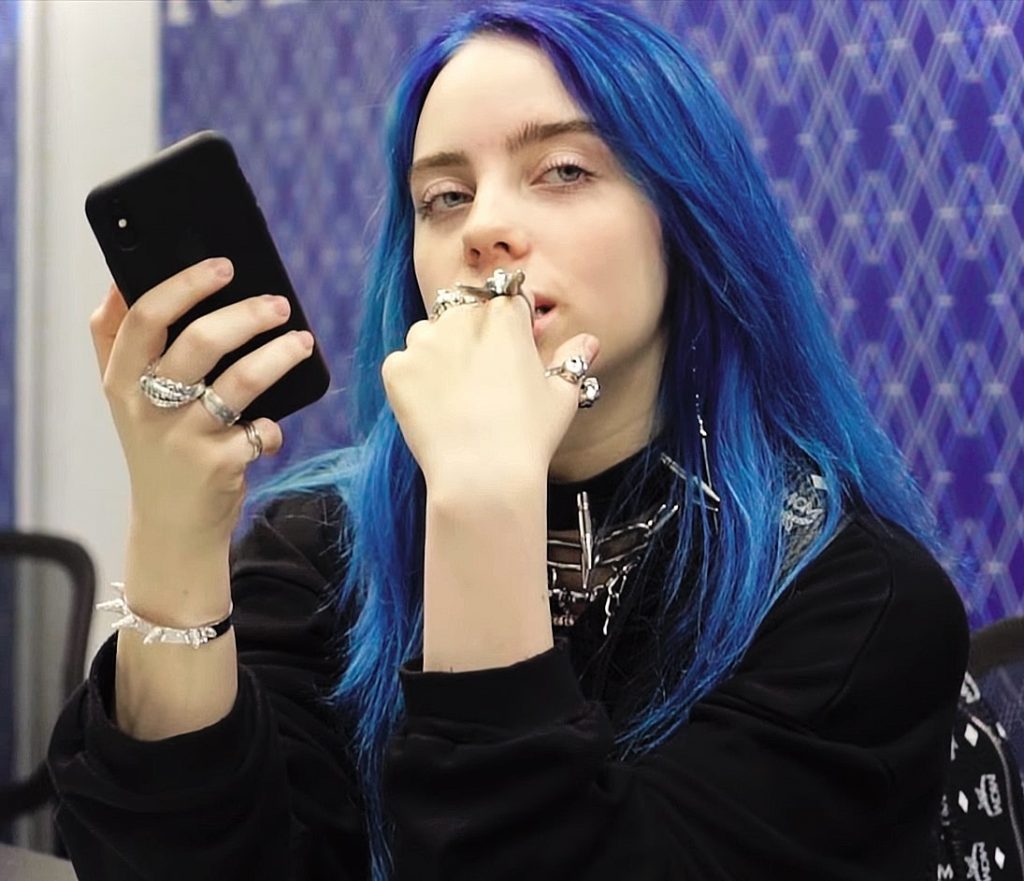 Teal (2018)
When Billie wanted to get rid of the blue hair, she got seafoam green hair. 
She wore the smooth finish for a while because it nearly complimented the color of her eyes and was somewhere between green and blue.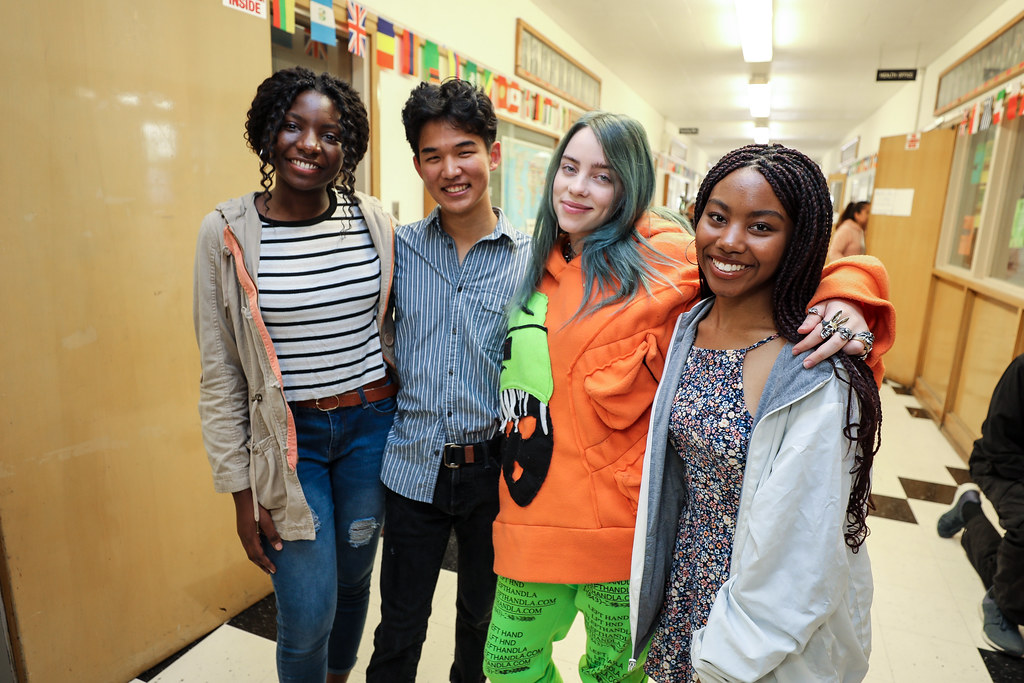 Black (2019)
She has spent a lot of time in the salon seeking ways to remove the blue hair that she has a love-hate connection with. In 2019, she featured black hair with blue streaks. This idea helped reduce the blue tone of her hair. 
Green Roots (2019)
Compared to any other color on the list, Billie wore her neon green roots with black hair the longest.
You undoubtedly have images of Billie with green hair, and whenever you see this color, you immediately relate to Billie Eilish.
Eilish's fans got tired of her hair style and kept asking her to change it. 
She responded to the critics by claiming that since she was thirteen, this color was the longest she had stayed with her hair, and it was all for her mental stability and development.
The "Bad Guy" singer kept this style throughout 2020, but she had told her supporters in December to change it after her documentary came out. She introduced a new era to her supporters.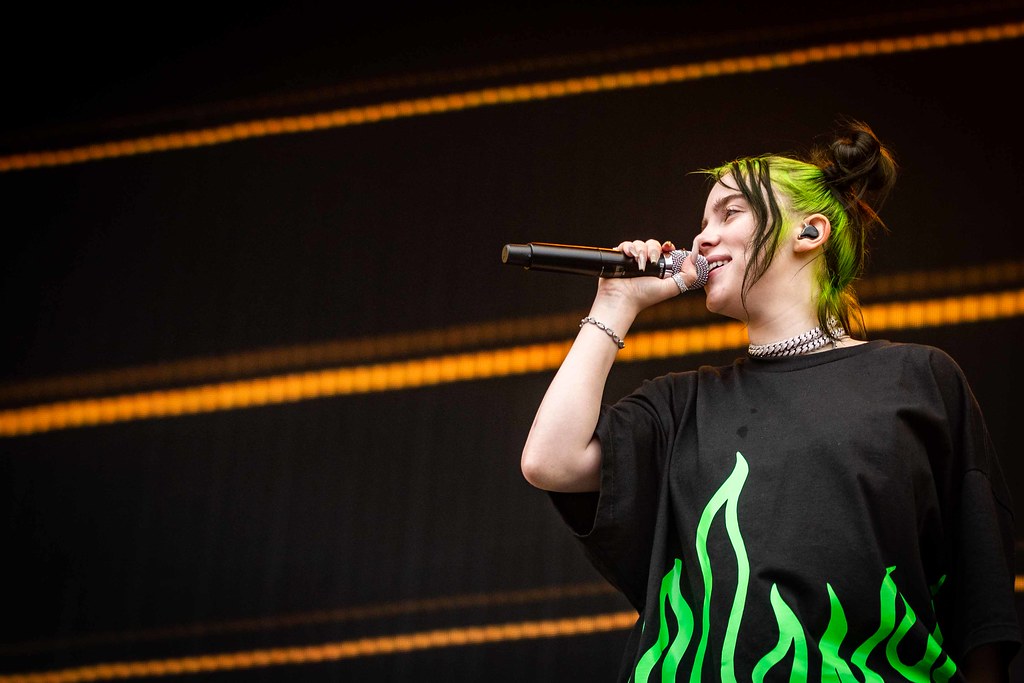 Brown (2019)
Billie chose a brown lace front wig in her thought-provoking "xanny" music video. Her eyebrows and hair were the same hues, establishing a harmonious effect.  
Blond (2021)
The singer of "Ocean Eyes" surprised everyone when she posted an image of herself with blonde hair in 2021. As she appeared on the cover of British Vogue, she stated how delighted she was to be blond and how she looked and felt more feminine.
Billie told the magazine that it took four dying treatments to completely get rid of all traces of black and green in her hair.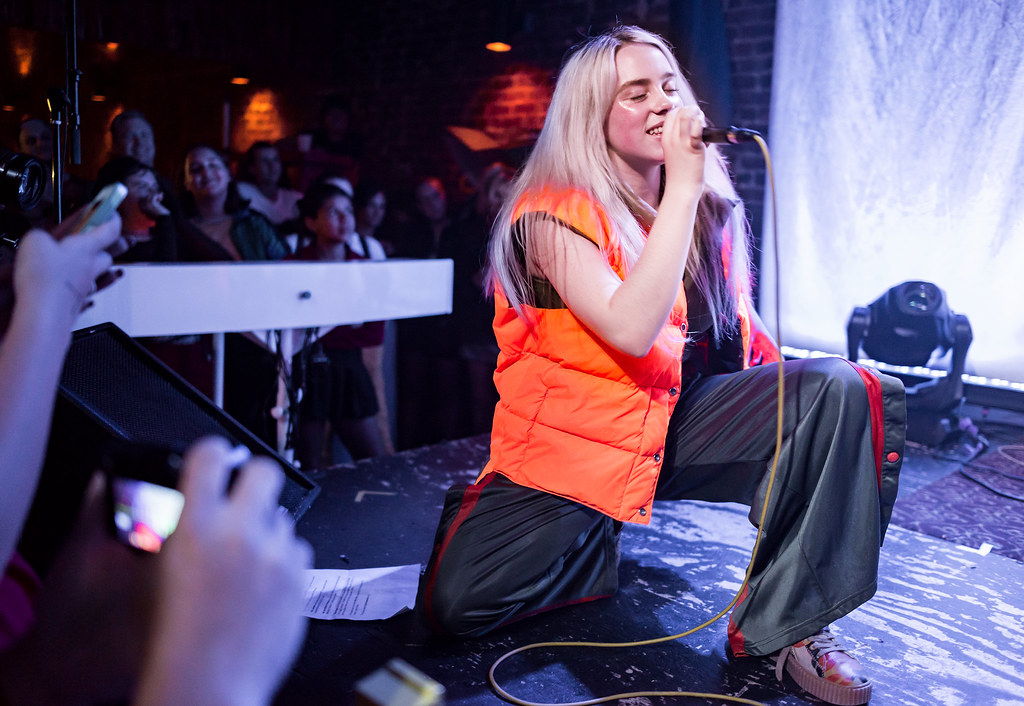 Brown (2021)
In December 2021, Eilish went back to the dark shade, revealing her brand-new chocolate-brown hair online. She posted a selfie of her new image, "Miss me?" 
Red (2021)
The "Male Fantasy" star said that she had secretly dyed her hair red for one week in November during her transformation from blonde to brunette during the first days of 2022. 
Black (2022)
In 2022, after years of changing hair hue, the 21-year-old artist decided to come back to black hair. Black is also her favorite color. 
Surprising Facts About Billie Eilish Hair 
Eilish hair is always a hot topic. You may spend hours searching for articles on the internet about it. 
Aside from the surprising number of colors the Grammy-winner has had, you can also find the following information interesting. 
Eilish had red hair for only one week.
A little more than one week after Eilish's red phase ended, in December 2021, she switched to dark brown hair.
Eilish's interim red hair might be the transitional hue she had before moving to chocolate brown because she had been blonde for nearly nine months.
Eilish dyed her hair blonde to avoid stalkers.
In an interview with Elle, Billie explained her decision to become blonde and lose her signature black and green haircut: "I couldn't go anywhere with that hair because it was so obvious to me. I wanted anonymity."
As a celebrity, Eilish gets attention whenever she shows up. She doesn't even feel comfortable hanging out with her friends with all eyes on them. 
Moreover, the green color is so outstanding. As a result, switching to another lighter hue will work.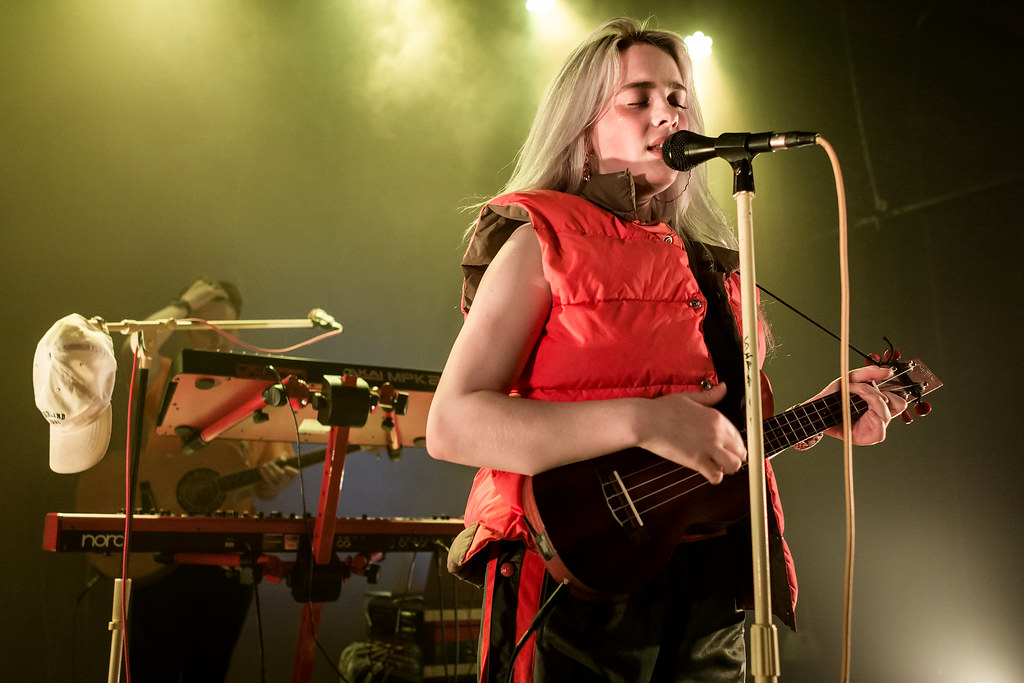 Elish and her "Wolf Cut" hair
This "Wolf Cut" style is sharp, stark, and highlighted by layers. The mullet and shag, two-decade-old trends that are currently making a comeback on celebs, have a huge influence on the hairstyle trend. 
Some people even think that Eilish is giving a more contemporary take on these styles. It also matches her hair tone. 
Frequently Asked Questions 
1. What is Billie Eilish's natural color?
Billie's hair is naturally blonde/brown, though she has colored it a variety of hues over the years. 
2. How many different hair colors have Billie Eilish had?
She has tried 14 different hair colors, enhancing her striking fashion style. She prefers bold colors as they suit her strong personality.  
3. Why did Billie dye her hair green?
Eilish hasn't explained why she chose this color. Yet, she expressed her love for the style. The pop artist said: "This is the longest I've had the same hair color since I was 13 & and that's on mental stability and growth; leave me alone."
4. Why did Billie Eilish change her hair color? 
There are two primary reasons for Billie's hair transformation:
She wants to hide from the paparazzi. Green-haired Billie is so famous that stalkers can easily point her out in the crowd. 

The artist likes the transformation. It makes her look new and sometimes fits the concept of her new song. 
Yet, please note that the color only changes her look. Eilish shared: "I'm still the same person. I'm not just different Barbies with different heads."
Conclusion 
As of March 2022, Billie Eilish has black hair. However, we can't predict when and how she will change her hair color. 
Your hair can influence your entire look. Why don't you try to switch to a new style? Be like Eilish, and you will have a fantastic experience with your choice.